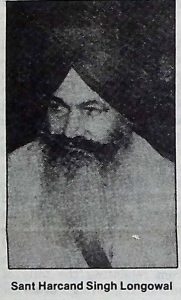 Sangrur (Punjab) — Mr. Harchand Singh Longowal, President of Akali Dal was shot at Village Sherpur, about seven kilometers from here. He was addressing a public meeting when assailants opened fire at him. His bodyguards numbering over seventy, including the government provided paramilitary personnel, returned the fire. In the crossfire one Akali worker was killed and a number of persons among the audience were injured. Mr. Longowal fell unconscious and was removed to the civil hospital, Sangrur. A helicopter was summoned to take him to the Post Graduate Institute of Medical Research, Chandigarh but finding his condition deteriorating, urgent signal was sent to arrange for a team of top surgeons. The team headed by the renowned surgeon Kuldip Singh, head of Surgery department, was still on its way when Longowal succumbed to the bullet injuries at 9:32 p.m. (1. S. T.). He never regained consciousness as he was hit at some vital point besides a bullet each in the abdomen and the arm.
Police sources believe that the assailant's number was four. Two of them were arrested on the spot but the other two escaped in the ensuing confusion. Longowal, it may be recalled, had signed an accord with Rajiv Gandhi only on July 24, 1985 to end three year old Sikh struggle for autonomy for Sikh majority state of Punjab. His action in signing the accord had enraged the Sikhs everywhere and he was openly charged of collusion with the government. Longowal's assassination has again plunged the troubled state into uncertainty. The schedule of holding elections on September 22 is most likely to be changed as the holding of elections in such a surcharged atmosphere can lead to much large scale bloodshed.
Indian Prime Minister, Rajiv Gandhi, immediately sent his Home Minister, S. B. Chavan and close confidant Arun Singh to express his personal concern and sorrow at the assassination of Mr. Longowal. Mr. Arjan Singh Governor Punjab also rushed to Sangrur on learning of the tragic incident.