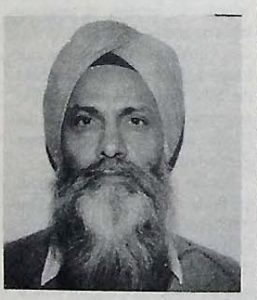 FISHKILL NY: A bhog, of the Akhand Path, the continuous recitation of the Guru Granth Sahib, of Sardar Surjit Singh Mandher was held at the Mid-Hidson Sikh Cultural Society here on December 31. Rich tributes were paid to the departed soul.
Sardar Sujit Singh Mandher, 45 passed away on December 18. He had been hospitalized for some time. He was a trustee 'of the society and had established a thriving gas station business. He immigrated to the United States in the early 1970's. He originally came from village Sampla in Punjab. He is survived by his wife Sardarni Charanjit Kaur and two children, a son Bobby Singh Mandher and a daughter Tejinder Kaur Mandher.
Sardar Surjit Singh Mandher was remembered as a kind man devoted to the Sewa of the community by S. Singara Singh the president of the Society who was a student of Sardar Sujit Singh Mandher at Malwa College in Samrala, Punjab.
At the bhog S, Harbhajan Singh Gill vice president of the World Sikh Organization recalled the various acts of generosity of Sardar Surjit Singh Mandher and his wife. "When we went to him for any help, he was always there," he said.
Jagjit Singh Mangat President of the Sikh Cultural Society, Richmond Hill NY, told WSN that Sardar Sunit Singh Mandher's death was a great loss to the community. He added that he had known him since the seventies.
It is better to have a lion at the head of an army of sheep, than a sheep at the head of an army of lions. " Daniel Defoe
"The enemy of my enemy is friend."
Arabic proverb
Article extracted from this publication >>