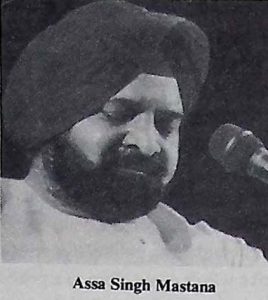 NEW YORK, NY: A Punjabi Night was held here on Sunday, June 26. As a Singh Mastana, the famous singer of the land of five Tivers accompanied by Ms. Madan Bala regaled the audience 'with songs of the yesteryears,
The prestigious Town Hall in Manhattan was the venue of the event. The program started with a folk song with "Tumbi" by Surjit Singh. It was followed by a folk song by Tahir Asadi and another geet by Aziz Pirzada, both from Pakistan:
Nadeem Shah, a young Pakistani had the audience in splits with his comedy and Girish Kumar presented a gazal in Punjabi.
Ravi and Malika presented a duet which was followed by a song by Harinder Singh and Sakhwat 'Ali. Mamun' Aiman introduced Rauf Seikh, a prominent poet of Punjabi in Pakistan who recited a few of his couplets including the popular "sirnama".
Assa Singh Mastana started with Shiv Kumar Batalvi's "Sikhar Duphera Mare Sir Te, Mera Dhalan Lagea Parchawan" after which he sang the same poet's "Jadon Meri Arthi Uthake Chalange".
The pensive mood that had set in with Batalvi's poems was dispelled by feisty numbers sung by Madan Bala and Amrita Singh which even brought Mastana on the stage with a light lyric. A fitting finale to the function was the Bhangra folk dance by the troupe from New Jersey.