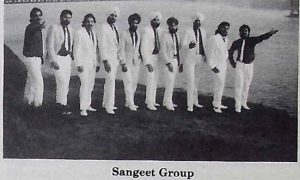 By Shalen Prakash Kaur
VALLEJO, Ca. California is witnessing another cultural shock. After the shock waves took England by storm almost a decade ago, the same is being felt here, in the golden state.
The Sangeet group of California has taken every lover of Punjabi music by surprise. In their existence of a year, they have received lots of encouragement from people and are booked for the next four months. Ranjit Singh, the Sacramento based, studio owner, is also their promoter. According to him "two years from now California will have something like the music groups in U.K.", the experiment in cross culture and emergence of more bands.
It was to promote the native culture that Sangeet group was formed. Furthermore younger generation of Sikhs needed some inspiration to follow the Sikh culture in an environment that is vastly different.
The group started out by singing at domestic parties and also the gurdwaras. Later on they were involved at social functions. The members of the group are young talented people. Ranjit is on keyboard, Amarjit, Lakhbir, Anoop, Tarlok, and Ashwani are vocalists Group Malkiat composes and plays tabla. , Jagdev plays the keyboard as well as sings. Ranjit Dosanjh controls sound.
Sangeet group exhibited their combined talent at the recent inauguration of Livingston Gurdwara, where they captivated the audience by Dharmik songs. EMIHMY will release their first recording "Ho Gayee Balle, Balle" towards the end of this month. A few more recordings are at the planning stages. Plans have been drawn up for their performances in U\S.A. and Canada. Some of their shows are for charity, like the one for the Bay Area Sikh Society. Ten brilliant minds plan to make it to the top together as a team. Each one of these young men has a special talent and gift and all they are doing is joining hands and Passing it on to others through their music,
The Sangeet group will very soon be capturing your hearts and souls. Happiness and being together is what Sangeet group is all about. W.S.N. welcomes the addition of these young men in the process of cultural revaluation obtaining in the west.
(Raj Singh also contributed to this story)