Bhagat Puran Singh is a household word in North India. His Pingalwara (literally a home of the cripple) is a nucleus of a great humanitarian movement. It is a temple of God where Bhagat Puran Singh can be seen as the presiding deity the saviour the redeemer the deliverer of the diseased the destitute the dispossessed and the crippled-a messiah whose heart bleeds to see the sick the suffering humanity.
Bom as Ramj Dass in May 1904 in a Hindu (Sanatani) family of village Rajewal in Ludhiana district he could not finish his high school studies due to paucity of funds. A staunch Hindu in early life he would keep three fasts in a week and recite Hindu scriptures. In order to satiate his spiritual hunger he went to Khazanchian temple at Ludhiana and washed Thakurs (the Hindu idols). Frustrated with the callous attitude of the Pandits who deprived him of food while themselves enjoying sumptuous meals he left for his village on the way he was offered food and shelter by two Sikhs. Touched by the traditional Sikh hospitality he went to nearby Reru Sahib Gurdwara. It was here that he got food not only for his body but for his soul too.
He always remembered the words of Bhagat Bhagwan Dass of Khanna who had studied many Indian scriptures that it was only Guru Granth Sahib which unraveled the final Truth Bhagatji found solace and inspiration in the teachings of Guru Granth Sahib. It was out of his convictions and practical experience that he embraced Sikhism.
This realization about the teachings of Sikh Gurus brought a turning point in his life. He wanted to serve the humanity in a unique way. The first manifestation of his dedication to this noble cause came when he started serving water to the thirsty passengers at Khanna Railway station.
In 1923 Bhagatji went to Lahore and started serving at Gurudwara Shahid Ganj and Dehra Sahib. He took a vow of celibacy dedicating his life to the service of suffering humanity.
Since that time Bhagatji has been indefatigably carrying on his altruistic activities day and night in scorching heat and biting cold in rains and dust storms undeterred by adversities undaunted by ridicule and criticism and unruffled by the obstacles He has always been a friend of the forlorn helper of the helpless a ready nurse for patients of any disease howsoever loathsome and infectious.
His crusading spirit and missionary zeal made no distinction of caste creed and community.
In 1934 he came across a four year old crippled child who was left outside the Gurudwara. He nursed him like his own son and carried him on his back for 14 years. He has been since then mothering him with the tender care and fondness of a parent. By carrying the cripple boy on his back he exposed himself to the ridicule of the people.
In 1947 he came to India with the crippled Piara Singh on his back. He stayed at the refugee camp in Khalsa College Amritsar. Where he started serving the sick camp inmates He moved to the city Railway Station where seven cripples joined him. He would do everything possible for these cripples. Forced to leave the Railway Station he shifted to an open air place under banyan tree where his family rose to 13. Even that place he had to vacate.
It was in 1958 that a piece of evacuee land was allotted where he set up the Pingalwara. Today the Pingalwara has in addition to its Headquarters 3 more sites and covers total area of four acres. The government grant is less than 0.5% of the total annual budget which comes approximately to 9800000 rupees. The annual grant by Shiromani Gurudwara Parbandhak Committee is 1.26% of the annual budget. In other words the Pingalwara is run purely with the money donated by people out of whom 90% are Sikhs. The Pingalwara houses 202 female and 175 male patients. Patients are sent to Guru Nanak Hospital and mental hospital for diagnosis and treatment. In addition to nursing the sick and the suffering almost all unclaimed dead bodies found in Amritsar are cremated by the Pingalwara.
'There are sixteen printing machines in Pingalwara where thoughts of Bhagatji and of other social thinker's reformist's great men are printed in small tracts. Bhagatji's topics of interest have very wide range-care of children nuclear warfare dowry harassment of women drugs destruction of forests family planning unemployment the care of animals just to name a few.
Pingalwara is a medico-social institution. It is a social laboratory wherein the solution of many a social problem is not only discovered but it is also broadcast with an effective and original method of publicity.
The visit to Pingalwara is no less than a pilgrimage and the sight of this 87 years old servant of God striving relentlessly to lessen the woes of others is no less than that of the Guardian Angel.
A Man of Convictions
Bhagatji is very firm in his convictions. He protested against the storming of the Golden Temple by the Indian army by returning the prestigious Padmashri Award saying that the invasion was Indira Gandhi's calculated move to wipe the Sikhs off this earth.
His only wish is that others could also 'partake of the ecstasies of life which I am enjoying in abundance in my life of dedication to the service of all living creatures'.
Bhagatji was honored with the Bhai Kanhaiya Award by the PHRO at a symposium on "Defence of human Rights in the Sikh Faith "at the PAU Ludhiana campus on April 6, 1991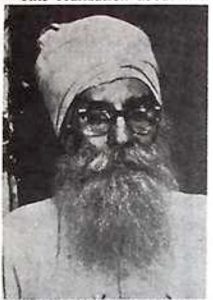 Article extracted from this publication >>