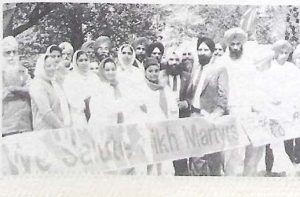 NEW YORK, NY: Representatives of Sikh organizations of the tristate area held a protest near the Consulate General of India in the city on May 15 to protest the latest assault on the Golden Temple in which numerous innocent people have been killed by snipers of the Indian security forces. The protestors included Amarjit Singh Grewal, Chairman of the Board of Governors of the Sikh Cultural Society, and Jagjit Singh Mangat, President of Sikh Cultural Society.
Dr. Manohar Singh Grewal, President, W.S.O. US.A., and Man Pal Singh attended the protest from Boston.
Kamikkar Singh Grewal, President of Sri Guru Singh Sabha, Glen Rock, and N.J. led a large contingent which included Avtar Singh, Harbhajan Singh, Prithipal Singh KhaIsa, Harbhajan Singh and Sukhbir Singh.
Jagmohan Singh Kocher, the President of Singh Sabha, Flushing, also participated in the Protest as did Harbhajan Singh Gill and Amarjit Singh Ahluwalia.
The protesters distributed leaflets denouncing the latest attack on the Golden Temple and the continuing violation of human rights by the Indian government which is engaged in state terrorism against the Sikhs.
The press kit distributed by the organizers showed various international press reports which how the Indian authorities have been training vigilantes to kill Sikh freedom fighters in Punjab.
The latest siege and occupation of the holiest shrine of the Sikhs evoked a strong emotional response amongst those present. A. number of women and children were also present at the protest.