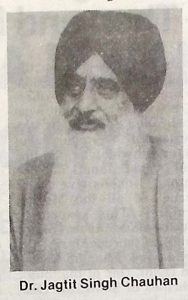 London — Dr. Jagiit Singh Chauhan on Tuesday went out of his way to deny a report, published in a Bombay weekly, that a plot was being hatched by him or in his Khalistan House to kill the Prime Minister, Mr. Rajiv Gandhi, during his forthcoming visit to Paris, Washington, Cairo and Algeria.
In a letter to Mr. Gandhi, he said, "I have no intention of causing you even a minor injury let alone of killing you." In a letter to President Zail Singh he said, ".I would like to assure the Government and the people of India that I have no intention whatsoever of killing your Prime Minister, Shri Rajiv Gandhi, at any time nor do I in. tend to assist in his murder. Nor do I feel inclined to be concerned with any plot or even though causing him injuries."
He requested the President to convey to Mr. Gandhi that he "has no hand or part in any conspiracy to kill him and did not play any role in his mother's assassination.
The Khalistan leader made the disclosure at a press conference which he called especially to deny the allegation that he was a "'terrorist'' and that any plot was being hatched to assassinate Mr. Gandhi.
Earlier, he distributed to the assembled newsmen photocopies of letters he had written to Mr. Gandhi, President Zail Singh, the Vice-president, Mr. Venkataraman, and the Lok Sabha Speaker, Mr. Balram Jakhar, along with his written statement in all of which he repeatedly denied the report that he was plotting to kill the Indian Prime Minister. He said he was a '"'terrorist'' of the Gandhi, Nehru and Patel brand.
With the bunch of the papers he distributed were also letters which he had written to the Prime Minister, Mrs. Margaret Thatcher, and the Home Secretary, Mr. Leon Brittan. The contents in these two letters were basically the same a denial of the assassination plot except for the fact that he appeared to be a bit concerned that an atmosphere was being created whereby '"'my extradition from the United Kingdom may be demanded,' but then he said he had '"'full faith in the English courts'? and their fair-mindedness.
"I have never instigated violence. I hold that violence does not, as it cannot, solve any dispute. I see no reason for changing my belief in my ripe old age," he said in his letter wondering at the same time whether he had become ''such an important person as to affect, either way, the relations between her Majesty's Government and the Government of India, both politically as well as economically. would be most grateful I! You could confirm whether this is true.'