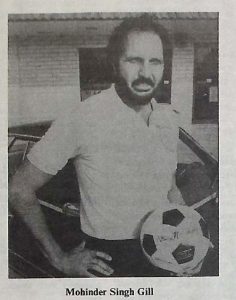 Our Sports Correspondent
TURLOCK, Ca.: Mohinder Singh Gill has been inducted into the NCAA (National Colligate Athletics Association) Hall of Fame at 'San Louis for his achievements in the track. He is the first Asian, to receive this prestigious award. It is a fitting finale to one of the most illustrious sports careers in sports. Gill broke 19 records and a few of them still stand after almost two decades. His personal best of 56 feet, 4 1/2" at El Paso, Texas, in 1972, made him the top triple jumper in the world.
Other Cal Poly Hall of Fames such as S.F. Giants pitcher Mike Krukow and St. Louis Carinals' Wizard Ozzie Smith, have become household names,
Mohinder, who recently turned 40, looks solid at 180 pounds, has started training once again with hopes of competing again.
The achievements are plenty and well known and this award was overdue and Gill richly deserved it. It normally takes 1520 years to be inducted into the hall of fame and Mohinder made it.
World Sikh News, acknowledges
This feat and extends heartiest congratulations to Mohinder, who is the first Asian to be inducted. That, he is a Sikh, is a matter of additional pride, Waheguru bless you Mohinder, you have brought glory to the Sikhs. We are doubly proud of you.