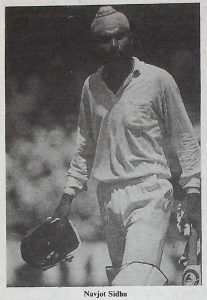 SHERRI STEPS INTO SUNNY'S SHOES
By A Special Correspondent In Chandigarh
VINI VIDI, VICI, (he came, he saw, he conquered) proves to be right in the case of the lanky six footer livewire, cricketer from Patiala, who has stormed the Indian cricketing scene at the right time when the Little Master, Sunil Manohar Gavaskar, has announced his retirement.
Sidhu with his superlative pyro techniques has earned lavish praises and warmed] the cockles of the hearts of a million cricket lovers all cover the world by his astounding knocks in the Reliance Cup series. For quite some time now this 23yearold, who was discarded after his Test debut in 1983 against the West Indies, has been on a SO plus run getting spree right from the Deodhar Trophy semis. He made valuable 73 not out and 69 off just 75 deliveries in the semifinals and the final, respectively. In the September 30 Drought Relief Indo Pak Reliance Cup Inaugural Match he had his share of runs. Then in a pre-Reliance Cup warm up match against South Zone he hit a 73 followed by a superlative 75, and then 51, 5S and 22 in five of the seven Reliance Cup matches in which he batted. Of course, it looks India has finally found a replacement for Gavaskar in Sidhu.
Sherri, as he is fondly called, has diligently worked his way up the ladder, graduating to big time from the Indian colts. His father, a former Advocate General of Punjab, Bhagwant Singh, (who sadly was no more to watch his son play the Reliance Cup series) had been his inspiration. From the tender ago of six, Bhagwant Singh had been guiding the destiny of his son — so that he became a world class cricketer one day. Bhawant Singh together with veteran cricketer and friend Baba Ram Kishan, shaped up the future of this lad at the famous Baradari Gardens at Patiala by laying a special concrete pitch and made trips with the young Sidhu wherever he went to. Play, giving him guidance whenever he required. Bhagwant Singh also spent lavishly on cricket coaches bringing them to Patiala to train his young son, including E.B. Aibara and A.C. Ram Singh. Another man who was of Sherri's disposal was the famous national coach, Gurcharan Singh, who taught him to cut out the square cut and hook early in the innings.
Nayjot Singh Sidhu suffered due to a negative media campaign despite his splendid aggressive innings against the West Indies at Amritsar. By this time his father also passed away, leaving him alone. He suffer due to the backroom politics of the Cricket Board until he broke free the last couple of seasons by the dint of his tremendous performance which was noticed with great pride by the panel of selectors led by Bapu Nadkarni.
Sidhu, who is extremely shy and of exemplary habits, aslo made his way to West Indies in the under 25 team led by Ravi Shastri and Manager Chandu Borde who were full of praises for this Jat lad.
He has exquisite timing and exemplary follow through of the bat and super cover drives which was the only cricketer to hit 10 sixes in the recent World Cup matches. His extraordinary powers make one feel that he has a natural flair of hitting. Sidhu in all probability is the heir apparent to the SMG''s throne now vacant after the Reliance Cup series.