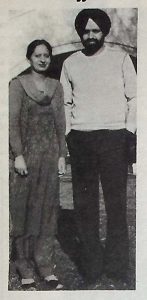 BHUPINDERS. NIJJAR is son of a famous and illustrious father Dr. Bakhshish Singh.
Mr. Nijar got BE. Engineering degree from Punjab University, Patiala, and M.A.Sc. from University of Toronto.
Mr. Nijjar is at present working for California Department of Transportation as a, Resident Engineer. He is a licenced professional engineer (Civil Traffic and Quality Engineer).
Mr. Nijjar was a top football player and an athlete. He represented Punjabi University in football'and athletics. He is married to Dr. Maninder Kaur.
Dr. Maninder Kaur Nijjar was born in Punjab. Her father S. Gurmukh Singh Gill was Chief Engineer Coal Mines, India.
Dr. Nijjar graduated from University of Indore and was a gold medalist. She was inspired by her uncle, Brig Wardev Singh (Dental Care) to join dental medicine.
She is practicing as a dentist in California.
She is happily married to Mr. Bhupinder Singh Nijjar and is mother oftwo children Deepinder Kaur (5) and Bakhshinder Singh (6 wks).
She is the member of American Dental Association and American Straight Wire Association.
Dr. Nijjar provides free treatment and consultation to the needy, the priests, and the visiting Jathas. She is a devoted Sikh who believes in the chardi kala of the Panth.