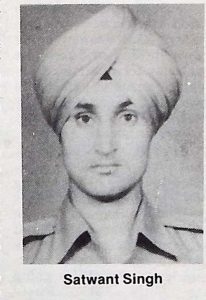 New Delhi — The additional chief metropolitan magistrate, Mr. Shek: Khanna on Thursday permitted criminal lawyer, Mr. P. N. Lekhi to meet Satwant Singh accused in the Indira Gandhi assassination case in the Tihar Jail. On a petition by counsel for Satwant Singh the magistrate directed the jail authorities to facilitate Mr. Lekhi's meeting with the accused.
Mr. Lekhi said he had agreed to defend Satwant Singh in the case in his professional capacity. "I am a lawyer first and lawyer last.
In a related development, Mr. Lakhi resigned from the Bharatiya Janata Party. The party office said his resignation had been accepted.
Meanwhile, Satwant Singh was brought to the Jayaprakash Narayan Hospital for a medical checkup.
He was examined by the doctors for about two hours amid tight security. The entry of outdoor patients was also restricted for security reasons.
Later Satwant Singh was taken back to Tihar Jail under heavy police escort.
Satwant Singh a security guard at the late Prime Minister's residence was injured when he was fired at by Indo Tibetan Border Police commandos.