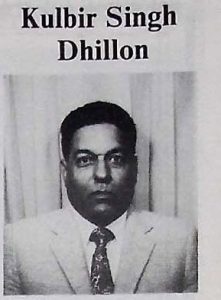 KULBIR S. DHILLON was born in Lyallpur district, now in Pakistan. He originally hails from village Dhilwan in Kapurthala district, Punjab. His father S. Gurbax Singh Dhillon served in the British army and retired as Naib Subedar.
Mr. Dhillon graduated in Civil Engineering from Guru Nanak Engineering College, Ludhiana, in 1963. He migrated to U.S.A. in 1970, as a permanent resident and selected California as his permanent business and residential place. He is registered as a Professional Civil Engineer with the State of California and licensed building contractor. But at present he has established himself as a Real Estate Development Building Contractor.
Mr. Dhillon is married to Manjit and are having two sons Sukhminder (23 and Bhupinder (22). Both are at present attending university for Medical and Computer Engineering. Dhillons spend their free time with the close friends and the family members. They often love to visit gurdwara to get the blessings of the Guru. They often share their views about the problems which our community is facing at this critical juncture.
Dhillons are very popular in the social, political and religious circles of the community and they remain behind none in providing assistance to any institution.