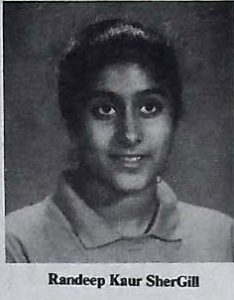 DAVINDER JIT KAUR SINGH of Pascagoula, MS, graduated May 27, 1988, as valedictorian of her class of 546 Students at Pascagoula High School. She is the daughter of Dr. and Mrs. Balwant Singh.
During her senior year, she was selected as the STAR student for her school. STAR students are selected' on the basis of academic excellence, including American College Test scores and scholastic averages. She was also selected USS. Senate Youth Scholar, PHS 'Century Ill winner, Jostens Foundation Leader Scholarship recipient, and a 1988 Presidential Scholars Program semifinalist.
Her high school activities include: Student Council, reporter and Vice President; Beta Club; Junior Civitan; Secretary and Treasurer, German Club, Vice President; IDEAS Club, Vic President; Pascagoula High School Mock Trial Team, witness and attorney; Senior Class Treasurer; Parent/Teacher/Student Organization; Mu Alpha Theta; Math and Science Team; National Honor Society; Science Club; Singing River Soccer Club; Gulf Coast Youth Soccer Club, 1987 School Bond Issue Committee; Teen Connection; and Mock Trial for Youth Court.
Honors include: Herff Jones Principal's Leadership Award; Fourth Annual Math and Science Tournament, sixth; Girl's State delegate elected to state office; "I Dare You" Danforth Leadership Award; Junior Science and Humanities Symposium Delegate; Distinguished Service Award from the Jackson County Soil and Water Conservation District; National Leadership Training Center
Delegate; Third Best Witness at State Mock Trial Competition Marine Biology Achievement Award; Third Annual Regional Math and Science Tournament fifth; State Foreign Language Competition, second in German II (1987), first in German III (1988); Who's Who Among American High School Students; Hugh O'Brian Youth Leadership Seminar Delegate; U.S. Department of Energy Award; Beta Club Quiz Bowl, third at State Beta Club Competition; Mississippi Soil and Water Conservation Youth Camp. Delegate; Citizenship Awards; Outstanding Student Council Member Award; Honors English II Achievement Award; English T Achievement Award; Advanced Placement European History Achievement Award; Biology I Achievement Award; Presidential Academic Fitness Award; Physical Science Achievement Award; Academic All American; school, city, regional, and state Science and Engineering Fair Awards (three years).
Davinder received the Herff Jones Principal's Leadership Award this year. She is the recipient of the William Randolph Hearst Foundation Scholarship for $2,000, the Robert C, and Byrd Scholarship for $1500, and the Jostens Foundation Leader Scholarship for $1,000. Davinder was offered the Dean's Honor Scholarship for $50,000 from Tulane University, $37,000 from Vanderbilt University, and $32,000 from Stanford University. She was also accepted to Duke University,
Washington and Lee University, and Millsap's College. Davinder has accepted a $32,400 scholarship to Yale University in New Haven, CT and will double major in chemistry and political science.
LODI, Ca. The Morada Middle School held its graduation convocation on June 23, 1988. This colorful function was witnessed by a large gathering which included the parents of all the graduates, on this auspicious occasion, three Sikh students Randeep Kaur SherGill (Daughter of Mrs, & Dr. HS. SherGill), Randip Kaur Johal (Daughter of Mr. & Mrs. Rupinder Johal), and Jaspal Singh Sohal (Son of Mr. & Mrs. Resham Singh Sohal) who graduated this year received "Presidential Academic Fitness Award". This award is given to the students who maintain an overall B plus average throughout the school years, including the semester of their graduation year. Their grades must be equivalent to a 3.3 GPA or better on a 4 point scale or 85% on a 100 point scale. Randeep Kaur SherGill also received a valedictorian medal for maintaining 4.0 GPA. She was among the top six students in this school district.
The World Sikh News congratulates the children and their parents on the graduation and wishes all the best for the future.