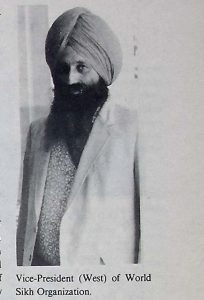 GURNAM SINGH PAMMA S. Gurnam Singh Pamma migrated to the U.S.A. in 1971 from Batala Mohi (Hoshiarpur). He worked hard on farms and bought a farm in 1974 with his brother Harbans Singh. Pamma brothers have 700 areas of land and are very successful farmers. Both brothers are very philanthropic and take active part in community activities especially in gurdwara management.
Gurnam Singh Pamma was Chairman for three years and President for two years of Live Oak Gurdwara. He is also member of the managing committee of Tiera Bueno Gurdwara. He had been Vice-president of U.S.A. Akal Dal and President of Sikh Council of North America. He is currently This Gurdwara was inaugurated in 1978 after purchasing, remodeling and renovating a Church. The community here is very religious and weekly diwan is held every Friday night.
Evening classes for children are held to teach Punjabi language and Sikh religion. On the occasion of Baisakhi, 1986. Amrit Sanchar was held in which 30 persons took Amrit. This is the largest number ever in this part of the country to have taken Amrit.
Gurdwara has also established two scholarships worth $500 that are given to outstanding students after considering their academic sports, religious achievements and their behavior and discipline arrangements for weightlifting are also there.
This Gurdwara also cooperates in every way with the Tierra Buena Gurdwara and fulfills all the duties assigned to it from time especially during Nagar kirtan.
Gurdwara Sangat here has also been closely associated with the Dharam Yudh Morcha and presented a purse of $25,000 to Late Sant Harchand Singh Longowal besides contributing nearly $5000.00 directly to the Morcha before 1984. Sangat also contributed $10,000 for Akal Takht Kar Sewa.
It is significant that the Gurdwara, management committee is always unanimously appointed.