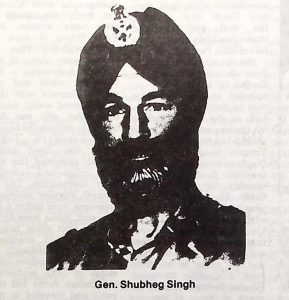 I met Gen. Shubheg Singh in June, 1947 at Quetta (now in Pakistan). He was staff Captain of 50 Para Brigade. We immediately became friends. He was a man who always looked at the brighter side of things. He told me that his parents had died when he was very young and he was educated by his relatives. Being a good athlete and an enthusiastic sportsman he always remained in the forefront of events in the regiment and was extremely popular with all ranks.
From Quetta we moved to Gurdaspur in August '47 and then to Jammu and Kashmir front. I was posted as GSO 8 (operations and air) in the same Brigade. During 1947 war, we were throughout together. He looked after administration and I was responsible for operations. He was always willing to take risks even outside his sphere of duty. I remember that he accompanied a fighting patrol and remained behind enemy lines for 2 days and we were all worried, but he returned safely. Of course the Commander, Brigadier Usman was annoyed that as an administrative officer he had no business to go behind enemy lines.
As we were both in the Parachute regiment, after the cease-fire in J&K in 1948, we moved to Ranchi in Bihar. We again happened to be together in 1962 during the Chinese War. He was Intelligence officer and I was in the Battalion at the Seal front in Kumaong Frontier Division of NEFA. But his best military role was training Mukti Bahini in 1971 Bangladesh War. He put his heart and soul in the work whatever is the assignment. I was posted as Brigadier General Staff and I went to visit his sector in 1971 at Agartala on Bangladesh border. I was amazed to see him in a lounge. He had completely changed to a Bengali lifestyle in dress and appearance that he looked more like a Bengali than an Indian Army Brigadier and acted like one, Mukti Bahini boys loved him and were very fond of him. They had transformed him into a typical Guerrilla leader. Very successful in his activities, his sector under IV Corps was adjudged the best out of all the Sector Commanders. Soon after he became the general officer. Decorated twice, he had the touch of a gambler, which is so very essential for a successful war leader. He was always lucky. Entirely devoted to the task in hand he took every risk and was successful. He was good athlete and a devoted soldier. His troops loved him and were prepared to follow him anywhere, which is the hallmark of a great soldier.
On the family side he sired three sons, two joined the Army and the third is looking after the family affairs. He had no daughter. He had made his home in Dehradun (UP) and after retirement lived there.
Next I met him at Amritsar in the Golden Temple. He had a long flowing beard and supported an Akali blue turban and looked every inch a devout Amritdhari. Dressed in pajama and Kurta he looked closer to the traditional Sikhs than a retired General. He was close to Sant Jarnail Singh Khalsa, and was also respected by the Akali High Command. He had good equation with Tohra also. He suffered a mild heart attack in early '84 and was hospitalized at Chandigarh, where I went to see him. In spite of his ailment he was in high spirits. After his recovery, he moved to the Golden Temple where he was completely drawn towards Sant Jarnail Singh Ji. Being an outstanding soldier, he became his military advisor and completely merged his personality with various groups living and working with Sant Ji. Last I met him was on 22 May 1984, when we exchanged a few pleasantries after I told him that I was going abroad for a couple of months.
A devoted, self-sacrificing soldier who took every conceivable risk and was successful. The outstanding picture of him in my mind is that of a man, who cared for nothing, feared no mortal and did his work with complete devotion and enjoyed the drama of events to the full. He became a martyr in the Sikh cause. Sikh Nation will always remember him with the deepest respect, admiration and love. The Saga of his martyrdom will serve as a perpetual fountain of inspiration to the Sikhs in general and to the youth in particular.
Gen. Shubheg Singh was a reliable friend and a voracious reader. He was not a brooding introvert but an exuberant extrovert. His company was a delight both entertaining and instructive. I salute to his supreme sacrifice and pray to the Guru to give all Sikhs the courage and dedication of Gen. Shubheg Singh.