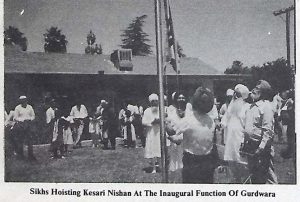 FRESNO. CA. A long cherished dream of the Sikh community of Fresno 'became a reality when a new Gurdwara Sahib at the East Dakota Avenue, Fresno was formally inaugurated. After years of worshipping in private homes, a building formerly owned by Lutheran Church is now the new home of the Sikh Temple Gurdwara Sahib of Fresno. :
The Gurdwara Sahib was in 'augured on Sunday after the bhog of Akhand Path of Guru Granth Sahib. Earlier the Akhand Path was started on Friday, June 10, 1988 at 10 a.m.
A large number of people attended the congregation. A beautiful renovated and decorated hall, previously known as Shepherded of the Valley, Lutheran Church, was full to the capacity. The Sikhs from all parts of California joined their brethren of Fresno on this happy occasion. Soon after the Ardas (Prayer), Shabads were recited by some children. Their performance was highly appreciated. IGS kirtani group, performed shabad kirtan which kept the congregation completely spell bound with devotion.
After the function, which was properly planned and admirably executed, the Kesri Nishan Sahib was unfurled by Bhai Gurbachan Singh, the priest of the Temple.
Meanwhile, a blood donation camp was organized to commemorate the Sikh martyrs who had