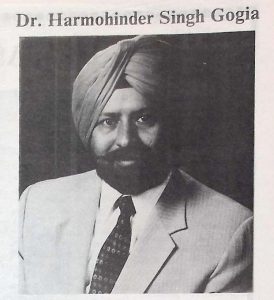 HARMOHINDEWR SINGH GOGIA,M.D.: Dr. Gogia graduated from the Medical College of Rohtak in 1969. After serving as a medical officer in the Indian army, he migrated to U.S.A. in 1975. Dr. Gogia is currently a US. Citizen, practicing Pulmonary medicine in Anaheim, California, He is a Diplomat of American Boards of Internal Medicine and Pulmonary Diseases. He is Chief of Staff at Western Medical Center Anaheim, since 1986, serving second constitutive term.
Dr. Gogia is married to Hardeep Kaur, a physics graduate, living happily in Orange, California with four daughters, Navneet, Mandeep and twins Raveen and Maneesh.
Dr. Gogia is deeply interested in the Welfare and plight of Sikhs in Punjab and all over the world, He wishes that we as a religious minority would unite to protest freedom as of religion and fight against oppression and persecution. Dr. Gogia is the investor of World Sikh News and as a patron; he has always been promoting the development of this paper.