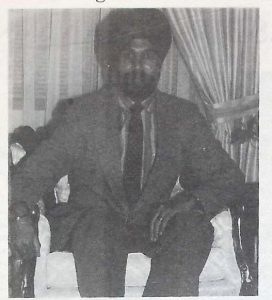 R.GURNAM SINGH PANNU, M.D.: Dr. Gurnam Singh Pannu is the most unassuming, sobre and soft, gentleman. He always tries to work for the welfare and the uplift of Sikh community without bringing himself into the limelight. Whenever there is any project or a call from the Sikh community for some sacrifice, Dr, Pannu will always be found standing in the front line but when some offer of office is made to him, he could be seen as the last man in the que.
Dr. Pannu has always worked to project the real image of a Gur Sikh who had full faith and belief in the teachings of the Gurus and he is a truthful follower of Guru Granth Sahib.
Dr. Gurnam Singh Pannu is the son of S. Atama Singh and Sardarni Harnam Kaur. He did his MBBS from S.P. College, Bikaner. He migrated to U S.A. in 1976. He completed his residency in Anesthesia in 1980 and worked as an Assistant Professor at Harbour. UCLA Medical Center. Now Dr. Pannu has his own private practice in Lancaster, California.
Dr. Gurnam Singh is married to Khushwant Kaur. Their son Sumeet Panny, 15. Is following the footprints of his parents. Dr. Pannu is the investor of World Sikh News Corporation and great premotor of the cause of the Sikh community. He is highly respected in all religious, political and social circles of the Sikh community.