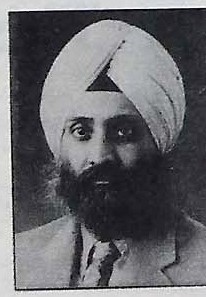 AMRIT SINGH, M.D. It's a long way to Tipperary, put it's even farther from Azusa to the city of Sangrur in the Indian Punjab.
One person who knows, and hasn't had that easy a trip, is Dr. 'Amrit Singh, the director of the new Azusa Family Health care and Urgicenter.
Dr. Amrit, 40, was born in city 'of Sangrur on July 10, 1947. He goes this M.B.BS. Degree from Punjabi University, Patiala in 1970 and did his rotating internship from Columbia Hospital, Pittsburgh, Pennsylvania, from 1971 to 1972. He completed his residency in Internal Medicine in the Veterans Administration Hospital, Long Beach, with affiliation at U.C. Irvine, from 1972 to 1974. He acted as Chief Medical Resident in White Memorial Hospital, Loma Linda University, 1974 to 1975. He did his cardiology residency from Huntington Memorial Hospital, Pasadena, and U.S.C. 1975 to 1977. Dr. Amrit is at present practicing in Cardiology and internal medicine in Arcadia, since 1977 to present.
Dr. Amrit always stood first in his class in grades and enjoyed a brilliant student scholarship throughout the student career. He received a second position in the University in physiology in Medical College. Dr. Amrit was an outstanding speaker in his young days and won many prizes in debate competitions during that period. Dr. Amrit had a lot of interest in sports and athletics. He was the captain of the volleyball and soccer team in high school and avid lover of tennis, jogging two three miles a day and doing other athletic exercises. Dr. Amrit during the last seventeen eventful years, he has been an outstanding political spokesman for the Sikh community. His political work on behalf of the Sikhs is as close to his heart as his career. He was given full page coverage in the front page of the View section in the Los Angeles Times in February 1980. Also, in 1980 he had given a one half hour interview to NBC television, representing Punjabi culture and Sikhs of Punjab and the interviewer was Keith Barwick. It was aired on the program called "Faces", and was aired in Los Angeles, San Francisco, Chicago, New York, Montreal, and Vancouver. Had multiple interviews with many network and local stations during the Sikh crisis in India representing the Sikh point of view.
Had a one half hour interview with Terry McGlaughlin, editor, and also had a one half hour interview for Group W Westing — house cable T.V. Network, which was aired on July 22, 1985, and the reporter was working for the internationally known Rand Corporation.
Likes to work with people and believes in God, and is very compassionate for the needs of the people, and always is willing to devote time for charities and for relief works. Is a great believer in democracy and in the American dream, and the concept of the American dream?