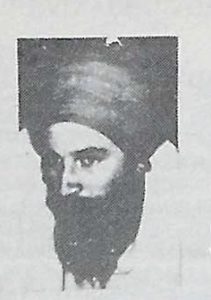 Annual Convention
At
Sikh Temple, Fremont
Dear Sadh Sangat,
You are aware that Khalsa Panth is passing through a serious crisis. Mughal atrocities pale into insignificance before the brutal savagery being practiced against the Panth by the Indian government. To meet this arrogant challenge, we need unity. To accomplish this objective, Bhai Jasbir Singh (nephew of Sant Jarnail Singh Bhindranwale) established International Sikh Youth Federation in England so that all Sikh young men and women could come under one banner. Bhai Jasbir Singh formed the International Federation to realize the dream and desire of Shaheed Bhai Amrik Singh who had said, "Organization of all India Sikh Students Federation at the world level would lead to a glorious future for the Khalsa Panth, and we would ourselves be its beacon light."
Let us contribute in every way to the International Sikh Youth Federation in order to fulfill dreams of our great martyrs. :
Amrit Sanchar will be the Special Feature on October 26 Program:
October 25, 1985 — Akhand Path (Arambh) — 7:00 a.m.
October 27, 1985 — Akhand Path (Bhog ) — 8:00 a.m.
October 27, 1985 — Lectures— 9:00 a.m.
All are requested to Participate. Let us defeat the sinister designs of the adversaries.
Bhai Lakhbir Singh Khalsa Dr. Arjinder Pal Singh Sekhon Tarlochan Singh Garcha Gurdeep Singh.
Fare Forward,
Brothers
Not Farewell