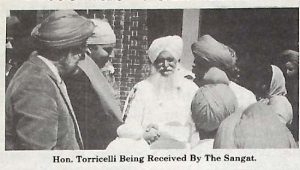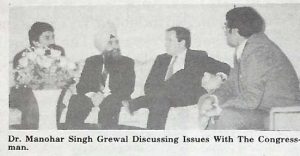 GLEN ROCK, di Congressman, R.G. Torricelli (Distr. N.J.) called for an apology and an acceptance of the responsibility by Indian authorities for the bloody assault on the Golden Temple in 1984. He was speaking at a Vaisakhi celebrations function at the Sri Guru Singh Sabha Gurdwara in Glen Rock, N.J. on April 17.
Addressing the congregation, « the Congressman said, "We cannot bring back the lives lost in the Golden Temple, but as citizens of America and the world, (we) can ask for a simple apology, acceptance of responsibility by the Indian authorities, and a basic compensation". "We can also ask for those who were lost in the rioting, a simple justice as well, payment of compensation for all that was lost", the Congressman added.
The Congressman had earlier been warmly received by the gurdwara management. He was prevented a role and a sword of honour. Earlier Pritpal S. Khalsa the secretary of Brig water Gurdwara gave a brief talk on the importance of Vaisakhi, after which Kammikar Singh, the President of Glen Rock Gurdwara welcomed the Congressman. Avtar Singh, in his introduction of Torricelli said that though Sikhs in America were enjoying the freedom, their human rights were being violated in India.
He said that he had met Congressman Torricelli in 1984 in order to acquaint him with the Golden Temple assault. Avtar Singh also told the congregation that Congressman Torricelli was a Member of the Foreign Relations Committee.
Raghbir Singh Bhalla, the Chairman of the Gurdwara gave a brief history of the Sikhs and recounted the organized violence against the Sikhs after the assassination of Prime Minister Indira Gandhi. "Not a single person responsible for this massacre has ever been brought to the book," he said. "State terrorism against our people is continuing in Punjab," he added.
Referring to the case of Sukhminder Singh Sandhu and Ranjit Singh Gill, he said that government of India was now even trying to extradite those who were even speaking out against its atrocities.
He said a government "Third Agency" intelligence network was responsible for the killings of innocent people in Punjab and the disappearance of Air Indian jet off the Irish coast.
Not even Russia, Uganda or East Germany had voted against the U.S. as many times as India, he
added, Two young men Amandeep Singh and Gunbir Singh also spoke to the congregation.