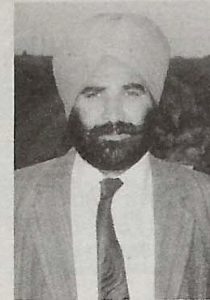 Charan Jit Singh Bath has achieved a great honor and distinction as being the "biggest grower?' of the central valley and thus he has been rightly named as "King of Raisins."
Charanjit was born to Sardarni Surjit Kaur and S. Sham Singh at V. Chak Ho 51 (Sajjad) District Lyall Pur, now in Pakistan, on July 17, 1938. His 'illustrious and most respected father, S. Sham Singh left for heavenly abode at Fresno, recently.
After the partition of the country the Bath family opted to migrate to Punjab (India) and thus settled at V. Talwandi Raiki. The family got the allotment of land at V. Nurpur (near Raikot) in lieu of the land Left in Pakistan.
Charanjit got a matriculation certificate from Khalsa School Raikote then the young Bath joined Khalsa College Sudhar for higher education.
But the luck was shaping in a different direction. Bath's eyes were set for a search of new horizons in life. So he migrated to U.S.A. in 1959. He settled in Stockton area (Lodi), the Land of Revolutionaries, to start the process of making his luck. Bath tried his hands on every odd job for six years, before opting for his family old profession of agriculture. Baths jointly purchased a modest 50 acre agricultural farm at Fresno in 1969. At that time he could not visualize he was setting his feet on a long journey to richness and fame. After some time, with Waheguru's blessings, hard work, sincere efforts and strong commitments, Baths have achieved everything, for which one can aspire. Charanjit has blind faith in the invisible hand of Waheguru. He attributes his success to God's "Kirpa." But his entire success has never gone to his own purse; he has always and equally shared it for the service of the community. He has generously donated huge amounts to the Gurdwara Sahibs of Bouge Rd. Yuba City, Pacific Coast Kl. Diwan Society Livingston, Guru Nanak Temple, Livingston, Fremont, San Jose, Fresno (Dakota Ave.), Nanak Sar Richmond (Canada). Total contribution must have crossed the imaginative thinking of the people.
Bath can be rightly mentioned as the leading and guiding force in the construction of a beautiful and spacious Gurdwara Sahib at Caruders his personal donation of $85,000 had set the example for others to respond to the call of religion.
Charanjit and his life partner Sham Sher Kaur are the proud parents of Harmel Singh Bath, Lakhmir Kaur Kanwar Jit Singh and Gagandeep Singh.