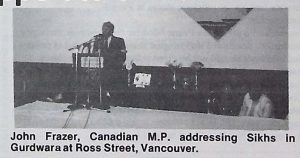 Vancouver: Canada: Addressing a large gathering at the Ross Street Gurdwara in Vancouver, Mr. John Frazer, Member Parliament, praised the Sikhs for their bravery, loyalty, and diligence. Mr. Frazer is scheduled to accompany the Canadian Foreign Minister, Mr. Joe Clark, for an official trade mission to India. He assured the leaders of WSO both publically and in private discussions that he would do everything possible within his capacity to express to Indian government the concern of the Sikhs living in Canada and their anxiety for the welfare of their brethren back in India. Earlier S. Gian Singh Sandhu, President WSO (Canada) and S. Didar President WSO (International) urged Mr. Frazer to take up with the Indian government the undesirable activities of the Indian consulates in Canada in attempting to create divisions among the Sikhs, They were critical of the consulates political and intelligence activities directed to damage the Sikh image abroad and to divide them.
They also impressed upon him the necessity of opening a Canadian Consulate in Punjab as it was not very safe for the Sikhs to travel outside Punjab. Besides, Sikhs travelling from Canada to Punjab were subjected to a lot of harassment in Delhi and at other airports of India. Mr. Frazer was requested to obtain first-hand about the true predicament of Sikhs in India and not go by what the Indian government or its stooges would like him to believe. Mr. Frazer told the leaders that he would again discuss the matter with them after his return from India. S. Gian Singh said that Indian government can give no justification for simultaneously invading 40 Gurdwaras when its declared purpose was only to arrest Sant Jarnail Singh Bhindranwale who, as the whole world knew, was conducting, along with the Morcha Dictator, a peaceful struggle from the Golden Temple, Amritsar.
Didar Singh Bains called upon the Sikhs to shed their narrow outlook and stand united under the Sikh national flag (Kesari Nishan) in order to fulfill their dream of establishing a sovereign Sikh State, Khalistan.