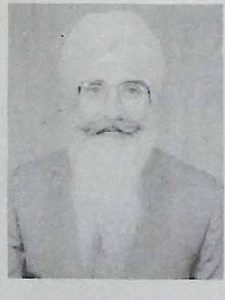 Bhai Sahib belongs to a respectable Sikh family of village Sadhar District Ludhiana and is 67 years old. His father S. Naranjim Singh Gill retired as a Deputy Assistant Controller Military Accounts. His father and mother being religious, he has had a religous care all through his life while he was studying in 10th class in Doaba Khalsa High School, Jullundur he happened to meet Sant Harnam Singh of Rampur Kherra (near Garhdiwala) Dist. Hoshiarpur and thereafter remained in his company throughout which turned him spiritual too.
He graduated from Forman Christian College Lahore (now in Pakistan) in 1941, worked (194850) as teacher in Govt. High School, Bassi Pathana. Where he got his M.A. degree in Punjabi from Punjab University, joined Punjabi department of PEPSU Govt. as development assistant and retired as research assistant after 22 years govt. service from Punjab Language Dept. Patiala. He is author of two well-known and much admired books:
(1) Nam Ki Hai?
(2) Atman Ki Hai?
Luckily his wife Swaran Kaur daughter of Prof. Jagat Singh Sekhon of Jamsher, Jullundur Dist. head of Physics Dept. Khalsa College Amritsar and Lyallpur Khalsa College Jullundur is also a religious and sympathetic 'woman and joins him in his every efforts of service and devotion. Her brother Sarup Singh Sekhon M. SC (Agricultural) sponsored Gills family to USA and because of him they are here since 24th July 1974. In USA he started his career as a priest in Sikh Temple Stockton and served the temple for about 12 years. As priest in Stockton he wrote a few pamphlets on Sikhism and also an introductory book on Sikh Temple Stockton. After a gap of about one and a half years, after his retirement from his Stockton Sikh Temple job he has again assumed the job of head priest in Sikh Temple Sacramento. He finds the members of the Sacramento Sikh Temple committee to be cooperative, hardworking and devoted to the Sikh cause and consequently feels less pressure on his own shoulders and gets plenty of time to study and write.
He is a committed and devoted Sikh. Though he does not belong to any political party within the Sikh Panth, yet he supports every party that struggles for the Panth. He says that to join a particular party is to join a race for jealousy, pride, fame etc. which is not suited to his nature. Panth is a party itself of totally devoted Sikhs wherein prevails Truth, Humility, Tolerance, Fear and infinite love of the Guru and which aims at serving the whole humanity, uprooting evil from the society and fighting the injustice at all levels.