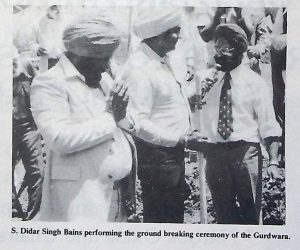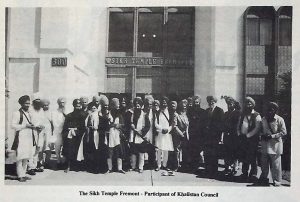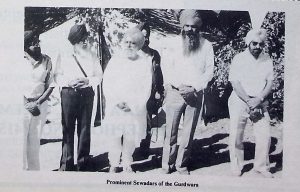 BY S. SUKHBIR PAUL S. GILL, Chairman Management Committee
Wherever 'the followers of Guru Nanak, the Sikhs go in the search of a better life, they generally construct a common sacred building called "Gurdwara", where they keep their holy scripture Sri Guru Granth Sahib "The Living Prophet" the embodiment of the spirit of the ten Gurus. The Sikhs get moral, social, cultural, political, religious and spiritual inspiration from this place.
It was under this inspiration that made the Sikhs of the Silicon Valley and Bay area of the Golden State of California decides to construct a gurdwara at a central place in 1975. Prior to this, the Sikh Centre of San Francisco Bay area used to hold monthly kirtans and diwans at the residential places to cater to the religious needs of the Sikh community. By that time, the population of Sikhs had started growing in the neighborhood of Oakland, Berkeley, Hayward, Union City, Newark, Fremont, San Jose and Santa Clara areas. It was then felt or realized that the small residential places were hardly adequate in relation to the size of the gatherings. Even the rented halls failed to satisfy the religious requirements of the time.
In early 1976, a search for a suitable site for the construction of a gurdwara was started. The author along with other sewadars started looking for various alternative sites and finally decided to buy the present site of 300 Hillside, Fremont in 1977.
The foundation stone of the dining hall was laid by S. Didar Singh Bains and Mrs. Shanti Bains on Sunday, 1st July, 1979 which is being used as gurdwara at present, with Akhand Path Bhog and ground breaking ceremony.
The collection of funds which we had started since Dec. 6 was mainly done from the Bay area residents but Sikhs from Yuba City, Stockton, Fresno, and other areas also contributed generously.
The building was completed in 1980 and the dedication ceremony was performed on behalf of the Sangat by Prof. Ranjit Singh Sabharwal and Sardarni Pritam Kaur Sabharwal on Sunday May 11, 1980. The flag hoisting ceremony was performed by S. Magh Singh and Sardarni Kartar Kaur Chima. The library was dedicated to the Sangat by Dr. Anmol Singh Mahal and Dr. Sunjit Kaur Mahal. Since then this Gurdwara is serving not only the religious needs but also has become the real hub of all activities of the Sikh community.
The following people got an opportunity to serve as sewadars with the blessings of the Sikh Sangat and the grace of their Guru.
SEWADARS: S. Sukhbir Pal Singh Gill; S. Hardev Singh Grewal; S. Satnam Singh Dha; S. Ajaib Singh Sidhu; S. Balbir Singh Ragi; S. Joginder Singh Johal; S. Tarlochan Singh Sandhu; S. Hari Singh Saran; S. Ranjit Singh Sabharwal.
CHAIRMEN:S. Ajaib Singh Sidhu; Dr. Anmol Singh Mahal; S. Shaminder Singh Kang; S. Bhupinder Singh Baidwan; S. Sukhbir Pal Singh Gill.
PRESIDENTS:S. Satnam Singh Dha; S. Sukhbir Pal Singh Gill; Ajit Singh Chattha; S. Balbir Singh Ragi; S. Hardev Singh Grewal; S. Hari Singh Saran; and S. Gurdip Singh Sohal.
VICE PRESIDENTS:S. Sukhbir Pal Singh Gill; S. Harbhajan Singh Nagra; S. Kewal Singh Bains; S. Joginder S. Johal; S. Naunihal S. Dhillon; S. Balbir S. Ragi; S. Harbhajan S. Dosanjh; S. Kuldip S. Deol; and S. Beant Singh Taran Taran.
SECRETARIES:S. Hardev S. Grewal; S. Ranjit S. Sabharwal; S, Sukhdev PalS, Gill; S. Joginder S. Johal; and S. Gurmail Singh Bath.
RELIGIOUS ACTIVITIES:— Akhand Paths; one every week in Gurdwara anu 2030 Akhand Paths in residences.
Everyday morning and evening diwans in the Gurdwara. Grand diwan every Sunday in the Gurdwara.
— Amrit Parchar every two or three months during the year.
— Holding Panthic conferences and unity meetins.
— Holding Punjabi, Dharmak and Sangeet classes for children. — Sending contributions to Shahidi Funds.
— Sending contribution to Akal Takht Sahib.
— Holding one picnic every year. — Holding Gaddar Memorial Tournament every year.
— Holding free Bhai Ghanai Medical aid programme at Gurdwara every Sunday.
PRIESTS SERVED: Bhai Sahib Rajinder Singh & Ranjit Kaur Mangat; Bhai Sahib Balwant Singh Khushdit and Jagjit Singh Parwana; Bhai Sahib Jagjit Singh Ji is serving presently and with so many jathas, dhadis, and parcharaks visiting and performing for the Sangat every Sunday and in daily diwans.
FUTURE PLANS:
Religious preaching activities to be accelerated.
Sikh Missionary School.
Khalsa Credit Union.
Bhai Ghanaiya Dispensary.
Children day care center.
Elderly retiring home.
Khalsa radio station.
Khalsa library.
AS SOME EMINENT PERSONALITIES OF THE BAY AREA WERE UNAVAIL ABLE AND SOME COULD NOTBE CON: TACTED FORSHORTAGE OF TIME, WORLD SIKH NEWS WILL COVER THEM IN A LATER ISSUE.