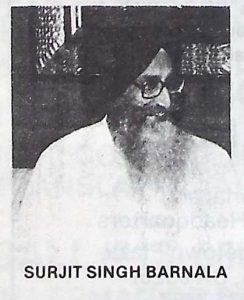 Chandigarh: Mr. Surjeet Singh Barnala was unanimously elected President of the Akali Dal for a two year term at a meeting of the party at Amritsar on Dec 15. Nearly four hundred odd delegates raised their hands supporting the proposal to elect Mr. Barnala fora two year term. The name of Mr. Barnala was proposed by S.P.G.C. President Mr. G.S. Tohra and seconded by Finance Minister Mr. Balwant Singh. The meeting authorized Mr. Barnala to constitute a working committee and nominate other office bearers. He was also empowered to form a committee to suggest amendments to the Party constitution. A resolution was moved asking the party chief to reorganize the Dal. The meeting decided that the Party President would now have a two year term. In an unprecedented move the meeting adopted a resolution expelling from the primary membership of the Akali Dal Mr. Balbir Singh Brar, a former General Secretary of the Party, who had created a controversy by asking for the intervention of the Akal Takht in the matter.
Mr. Brar was of the view that the Chief Minister should not concurrently hold the office of Party President. Which he thought, was contrary to the tradition of the Party. The resolution expelling Mr. Brar's was moved by Darshan Singh. The house passed a resolution criticizing the Centre at whose instance the Maharashtra Government had instituted false cases against Mr. Simranjeet Singh Mann, whose detention under the N.S.A. was quashed by the Panjab and Haryana High Court. The resolution also sought the release from detention of Bhai Jasbir Singh, nephew of Sant Bhindranwale. This resolution was moved by Mr. Kuldeep Singh Vadala who also pleaded for the release of detained Sikh youth in different States, Mr. Surjit Singh invited all those who had left the party for different reasons, to return, The appeal was to those who had left with Talwandi or on their own. They were now welcome home.
Mr. Surjeet Singh Barnala criticized the United Akali Dal and All India Sikh Students Federation, without naming them. He said, their first aim was not to form a government, now they wanted that the government should not function. It was said that the boycott of September elections by Certain quarters had no effect on the voters.
Sant Ajeet Singh, who is associated with Ravi Inder Singh, reportedly resigned as convener for Party's Parliamentary Board and as President of the Ropar district Akali Jatha by declaring that he will not attend the meeting of Akali Dal anymore. He reportedly resigned in protest against being ignored by Mr. Barnala.