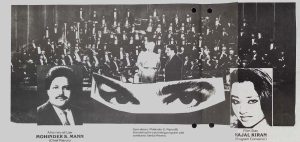 A Vibrant Evening of Celebration comprising
Live Music, Melodious Songs, Exuberant Dances,
Side-Splitting Skits and a Fabulous Live
Orchestra of 100 hands conducted by
Maestro SARDUL KWATRA
Attorney-at-Law
MOHINDER S. MANN
(Chief Patron)
Stage Executive:
DAVINDER SANDH4 (Billu)
Seen above: Mohinder S, Mann (R)
discussing the upcoming program:
conductor Sardul Kwatra,
Film Star
KAJAL KIRAN
ASHWANI KUMAR
(Program Executive)
Date: Saturday April 29, 1989
Time: 7:30 p.m. sharp
Venue: De Anza College (Flint Center)
21250 Stevens Creek Blvd.
Cupertino, CA 94014
Admission: $10.00
Chief Guest: RON GONZALES:
Supervisor, District 3, Santa Clara County
RON GONZALES
March 1.1989
HONORABLE PATRONS
anal
Jehanait Hamdan
Sahiba Hamdan
Kacnail Singh Thiara
rithipal Singh
Rejender Kaur
'Amik Merok
Bersuuit Singh Sethi
Poul Mahal (Fresno)
Manmohan Singh
Vandate Dilip (Sei Travels)
Ui Singh Bava
BinalltSingh **SHingtend.c)
ighalSingh Bola
Br batmect Sin
Be Miss Tripta Sacnae ey
'Amek Singh,
chdev Mg
'Avtar Singh
'Arvind Patel
'Amar Neth Sahai
'Ahmed Mamzoor
Baldev Kumor
Baldev Kishan (Sacramento)
Dr. BAL Suri M.D.
Ball, Pittsburgh
Balraj. Gill
Balwant Chehal
Diljit Sandhu
Harbhajan Singh Shad
Lahori Ram,
Mudabbar Miyan
Dr Satpal Kaira
Dr Kuldeep Sidhu M.D. (Tracy
Dr MongotD.DS
Jim Grewal
Happy Pakistani
HONORABLE PATRONS
SARVSHREE
Atma Singh Jee
Indo-Pakistan Friendship Society
Joy Kapur (Maharani Restaurant)
Surinder Kumar (Cafe Bombay)
Dr Christopher Gunsekera, San Jose
Dr Dilbagh Chatha M.D.
Dr. Malkiat Singh M.D.
Dr Hari and Dr, Veena Purl
Dr, Dhanoa M.D.
Kirpal and Neelam Khanna
Gurpartap Singh (Gerry)
Dr. Sarabjeet Hundal .D.
Kulwant Sangha
Dr, Ghuman
Manmohan(Samrat Video)
Ravinder Soni
Surinder Singh (Guru Palace)
'Amardeep Department Stores
Porveen Sandhu (Royal India Cuisine)
Serdool Singh Lendon Wale
Janak Bhai Jhaveri
Parduman Singh
Laxmi Saxena
Julian Ramrez
Dr. Gurupartep Singh M.D.
Sarban Singh Lalhan
Ranjeet S. Hansa
Inderjeet Singh Upp!
DEMS. Nijjar, M.D. (Modesto)
Tirlochan Singh Bhando
Jasbir S, Gujral
Dr Rameshwar Singh
Dr Sarla Goyal M.D. (Chieago)
HarchandS.Danda
Inder Singh Dhandal
Harbans Singh Bhandohal
Rummy Singh Dhillon
Vinod-Dauli Dhar
Injerjeet Sabharwal
Misti Lal
Iftikhar Ahmed
Dr. Vikar Ahmed
'Jaspal Singh Dhillon
Kumer Jewellers
International Video Stores
Onkar Travels
Ajay Pal Singh Walia
Monjeet Virk
Sayeed Zafar Abbas
Hasmukh Bhai Patel
Prehlad Bhai
Joginder Singh Rebal
'Nirmal Singh
(Onkar Singh
Guru Charan Rehal
Harish Kumar
Kirt Bhai Pate)
Revi
Gupta Jee