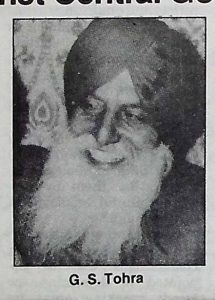 New Delhi, India — the Sikh supreme religious body sued the federal' government for assault on Sikh's holiest shrine, the Golden Temple, and 42 other sites by the Indian Army in 1984.
The Shiromani Gurdwara Prabandhak Committee and its president, Gurcharan Singh Tohra, sought $833 million in damages for the army attack on Sikh temples in Punjab state.
"A deliberate effort was made to cause maximum setback to the history, culture and religious achievements of the Sikhs," the court papers alleged.
The suit, which was filed in a civil court in Amritsar, sought an apology from the government for desecrating the Sikh temples."
The documents said the army action caused a "deep sense of injury to the honor "and self-respect of the Sikhs, who are a law-abiding, patriotic, religious minority community of India."
Prime Minister Indira Gandhi in June 1984 ordered her security forces to end the Sikhs struggle for autonomy launched from inside the Golden Temple and other shrines in Punjab state. Hundreds of Sikhs died in the fighting.
Four months later, two Sikh bodyguards who said they were avenging the attack assassinated Gandhi.
The suit alleged invaluable and precious articles were plundered and destroyed amounting to over $166 million.
The treasure room housed century old rare manuscripts, historical documents and other sacred articles. The court papers claimed were intentionally destroyed.
It estimated the loss to Akal Takht, the Sikh's highest religious seat, at the same amount $166 million.The government, fearing Sikhs would preserve the damaged Akal Takht as a monument, rebuilt it last October amid strong protests from Sikhs.