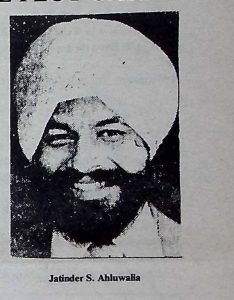 NEW ORLEANS: A New Orleans cab driver who insisted that he wasn't part of a plot to killa visiting Indian government official in 1985 was acquitted Thursday by a federal judge who said there is insufficient evidence to convict him in the conspiracy.
Jatinder Singh Ahluwalia, 31, who had been in prison for 23 months awaiting trial, said, "I waited the last two years for justice. I feel there is still justice in this country if you stand for your soul".
Ahluwalia, a member of India's Sikh religious sect, was indicted in 1985 along with four other Sikhs on charges that they plotted to kill Indian official Bhajan Lal while he was in New Orleans in 1985 for eye surgery.
Sikhs are far outnumbered by the Hindu majority in India, but they are a majority in the Indian state of Punjab where they are fighting for an independent state named Khalistan. Lal, a Hindu, was Chief Minister of a neighboring State, reportedly used in 1984 as a staging area for a bloody government raid on a Punjabi Sikh shrine, Golden Temple at Amritsar.